Below are a few examples of the work I've done. For more information, please see my
LinkedIn
profile.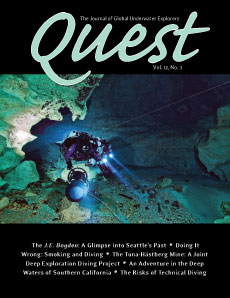 What: Quest

Journal
By: Global Underwater Explorers
Description: Quest is a quarterly magazine "that seeks to cultivate an understanding and appreciation of the underwater world and of its component parts. Composed of articles submitted by supporters of GUE's mission—both lay and academic—Quest's subject matter ranges from accounts of exploration from around the globe, to equipment, training, exercise, physiology, diverse aquatic environments, and ecological considerations."
What: When the Cops Come Knockin'
By: Travis Townsend and Trinity Townsend
Description: WCCK "fills the void where parents, youth and teens
need user-friendly and culturally relevant information about criminal law, presented in a format that makes the law practical and accessible for everyday people."
*I also edit academic papers—such as theses, admissions essays, and research papers—professional pieces—such as articles, resumes, and cover letters—and business documents—such as slideshow presentations, forms, and marketing material.
What: Websites, Blog Posts, & More
Proofreading Work
What:

A Civil Society Deferred: The Tertiary Grip of Violence in the Sudan
By: Abdullahi A. Gallab
Description: "
A Civil Society Deferred chronicles the socio-political history and development of violence in the Sudan and explores how it has crippled the state, retarded the development of a national identity, and ravaged the social and material life of its citizens."
What:

Surviving Momma
By:
Dr. Pamela Everett Thompson
Description:
A "stirring and thought-provoking self-help book brimming with illustrative examples and empowering life lessons geared toward women from young adulthood to mid-life. It takes the reader on a journey through eight narratives of females sharing their experiences of their mothers' self-absorption, demanding ways, jealousies, belittling jabs, excessive worry, controlling nature, narrow-minded perspective, or perhaps even mental illness."
What:
Secrets from Florida's Master Anglers
By: Ron Presley
Description: "
Secrets from Florida's Master Anglers offers both tourists and natives a fishing resource like no other. Professional fishing guide Ron Presley conducted
privileged interviews with twenty of the state's top charter-boat captains. The result is this collection of tips and techniques sure to make your next excursion a success."
What: Newsletters, Marketing Materials, Blog Posts, & More